Dallas and Fort Worth are both known to be very LGBT friendly, but what about the suburbs? Is the DFW Metro, as it's known, really the better place to live? National ranking recently released say yes, although there are a number of people who dislike Dallas simply because of the traffic. However, the Human Rights Campaign has given both Dallas and Forth Worth a score of 100 on their 2016 Municipal Equality Index.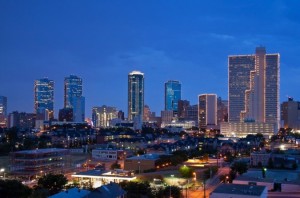 This index is the HRC's survey of large cities to determine if those cities have policies and laws in place that protect their LGBT citizens. Many large cities actually rank fairly low on this index, while some of the smaller metro areas rank very high. As cities in Texas, many might assume both Dallas and Fort Worth would rank lower. However, the two are very LGBT-friendly. Fort Worth has greatly improved in the past four years, though. It scored an 83 in 2012. Dallas has received a perfect 100 for the second year in a row, a feat only achieved by one other Texas city, Austin.
Overall, though, the suburb cities in Texas averaged very low. College Station, Laredo, and Irving scored in the single digits: each of these three suburbs scored six out of 100. The next city on the list, Grand Prairie, scored a 12. McKinney, Killeen, and Lubbock didn't do much better, scoring an 18. Out of the suburbs, only Plano showed any improvement. The city received a score of 14 three years ago, but its 2016 score was much higher. Plano was given 74 points, showing that the city has vastly changed in how it treats its LGBT citizens since 2013.
The other two major metro areas in Texas, San Antonio and Houston, scored a 95 and a 71 respectively. Following Houston, the next highest scoring city was El Paso with a 57. The other 18 cities the HRC ranked on their list fell below the national average of 55. Overall, Texas cities on the list averaged a 34.
The HRC examines the city's non-discrimination laws; how the city treats its LGBT employees; if the city has an organization that focuses on LGBT rights; if the schools have anti-bullying policies; how the police and the LGBT community relate to each other; and how local community leadership speaks out about LGBT rights. In 2016, the HRC assigned scores to 506 cities. These included the capitals of each state, 200 of the largest cities in the US, and the most populous metro areas.