Most LGBTQ people looking to make a name for themselves in the theater have a common dream: to star in a play on Broadway. That means moving to New York City. While NYC is pretty much considered an entire gay neighborhood in and of itself, it does have one special area that played a major role in LGBTQ history: Greenwich Village. This district, a part of Lower Manhattan, is considered a Bohemian neighborhood and the home of both Beat and the LGBTQ rights movement.
The Stonewall Riots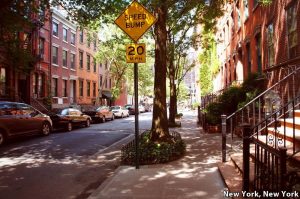 On June 28, 1969, a police raid on the Stonewall Inn, a popular LGBTQ hotspot, led to a series of riots as members of the community, drag queens, and their supporters stood up to the authorities and stated that they had done nothing wrong. The situation spiraled out of control, with protests occurring several nights after. The residents of Greenwich Village quickly formed activist groups and, for one of the first times ever, LGBTQ people stood up and demanded the right to be open about who they were without fear of any legal repercussions.
One Year Later
The year following the riots was a major turning point for LGBTQ rights not just in New York but around the country. The idea of forming activist organizations spread to Chicago, San Francisco, Los Angeles, and other major cities. LGBTQ newspapers began publication, increasing visibility of the community. In June of 1970, on the year anniversary of Stonewall, the first pride marches were held.
Greenwich Today
Today, the neighborhood of Greenwich Village is defined as the area between Fourth and Sixth Avenues and between Houston Street and 14th Street. It's a fairly small neighborhood, and a good portion of it is taken up by Washington Square Park. Because it's so small, it's also a very tight-knit community. The streets are fairly narrow, and many of them are lined with trees that look gorgeous during the fall. Most of the homes here are either apartments or brick townhouses that have stood for decades.
Like all neighborhoods of New York, Greenwich Village isn't cheap. Any condos, apartments, or houses that cost less than $1 million are considered major bargains, and gay or lesbian real estate agents with such listings usually don't have them for long. You can usually expect to pay at least $1.5 million for a home here. Most of these homes have been kept up and renovated over the years due to gentrification, so you're definitely getting your money's worth. The chance to live in the area where the fight for LGBTQ rights may be worth more than money.