While there are many different gay ghettos or LGBTQ-friendly neighborhoods around the country, some have gained more popularity than others. Homebuyers often ask gay and lesbian real estate professionals to find them a home in these areas. For some, living in one of these areas makes them feel safer. For others, it's the chance to be a part of a community. Some simply love the location and the housing. If you're looking for a gayborhood to call your own, here are some of the top ones in the country.
The West Village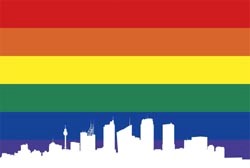 The West Village is the gayborhood that started it all—no, it wasn't the first gay neighborhood in the U.S., but it was the home of the Stonewall Inn, the site of the famous Stonewall Riots that started the LGBTQ pride movement. West Village features a monument to Stonewall, a number of gay and lesbian bars, and is the location for New York Pride. It's still a gay neighborhood, even if the number of LGBTQ residents isn't quite as high as it once was.
Alternatively, New York City has a few other neighborhoods that have large LGBTQ populations, including Chelsea, Hell's Kitchen, Harlem, Williamsburg, Bushwick, Jackson Heights… basically each of the five boroughs has at least one gay neighborhood.
The Castro
No list of gay neighborhoods is complete without San Francisco's Castro. One of the earliest LGBTQ neighborhoods, the Castro is still going strong today. One of its few downsides is the housing costs, though. It's not cheap to live here. Many who want to live in San Francisco quickly realize that the suburbs offer much more affordable housing and, thanks to the BART rail system, just as much access to everything in the area.
West Hollywood
If the Castro isn't to your liking, you can move south to West Hollywood. The WeHo area is known for the Sunset Strip, a section of Sunset Boulevard that's full of great restaurants, boutiques, and event venues. Of course, you're more or less exchanging one large housing bill for another—WeHo isn't cheap!
Montrose
The heart of the Houston, Texas, LGBTQ community is Montrose. Many active LGBTQ groups advocating for equal rights in Texas have come out of Montrose, although today the area is fairly gentrified. In addition to LGBTQ bars and clubs, Montrose now features art galleries showcasing works by artists such as Picasso and Warhol. It's got a little bit of everything, and it's all wrapped up in Texan charm.