Thinking about moving to Atlanta, Georgia?  If so, you may be surprised at how welcoming and LGBT-friendly the city is.  Even though it's one of the largest cities in the south (and, in fact, the U.S. as a whole), Atlanta has a long history with the LGBT community.  In fact, it's been called the Gay Capitol of the South because of how open and friendly it is.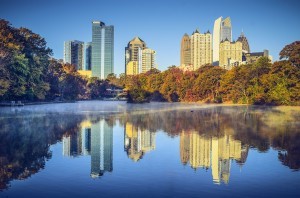 When your gay or lesbian realtor tells you that there are many LGBT people living in the city, you may think they mean there's a gay district with a few people flying rainbow flags.  You'd be surprised to learn that according to the 2010 Census, 12.8 percent of everyone who lived in Atlanta identified themselves as LGBT.  While the list changes often, at one point Atlanta had the third-largest percentage of gay and lesbian residents out of all major cities in the U.S.
The LGBT community in the city is, as you'd expect, very visible and vocal.  Atlanta hosts an annual LGBT-owned business expo that attracts entrepreneurs from around the nation.  And this isn't a recent event, either—it started in the 1980s and has been held every year since then.  Atlanta Pride is the largest pride event in the Southeast, and the Atlanta Gay & Lesbian Chamber of Commerce was the very first LGBT CoC to be established not only in Georgia but also in the United States.
One of the largest partners in the fight for equality is located in Atlanta: The Coca-Cola Company.  They are a Gold sponsor of the Atlanta Gay and Lesbian CoC and one of the major sponsors of the city's pride festival.  The company is also one of the biggest employers in the area, and a number of LGBT people in Atlanta work for Coca-Cola.  The company has been named one of the Best Places to Work for LGBT Equality by the Human Rights Campaign for a number of years.
In addition to working for Coca-Cola, those who work for the City of Atlanta may sign up for the city's domestic partnership registry.  Atlanta opened the registry in 2004.  In addition to offering same-sex partner benefits, the city is also one of a handful in the state to protect all of its employees from discrimination based on sexual orientation and gender identity.  While Georgia's same-sex marriage ban is currently in effect, it has been challenged in court.  As of the end of January 2015, proceedings in the case were suspended until the U.S. Supreme Court makes its ruling in the same-sex cases they will consider during the 2015 session.