If you're thinking about moving to the Detroit metro area, you'll be glad to know that the area certainly has a strong LGBT culture. However, it's interesting to see that this culture is fairly decentralized—there's not really a main strip or gay ghetto in the area. Some would argue that there are actually three—much of the LGBT culture is split between Royal Oak, Pleasant Ridge, and Ferndale, three of the smaller cities that make up the Metro Detroit area. However, Detroit itself does have some areas that have a larger LGBT population than others, specifically Woodbridge, Indian Village, East English Village, and Lafayette Park.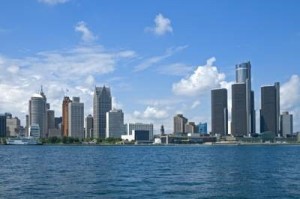 But these areas weren't always the center of the LGBT world in Detroit. In fact, the city has an interesting LGBT history. Prior to World War II, the gay and lesbian community was centered around the downtown Detroit area. Then it moved to New Center. By the 1970s, it was mainly Palmer Park, but rising crime rates moved the LGBT community to Ferndale during the 1980s. In most cities, the gay ghetto, once established, tends to remain in the same area unless something drastic happens. In the Detroit metro, though, it tends to move fairly regularly.
Today, while LGBT people still live in Ferndale, it's not the exclusive gay ghetto that it once was. Most people don't really see Detroit as having a gay neighborhood at all. Some feel that this makes the gay and lesbian community invisible, while others see it as integrated throughout the Detroit metro area.
Ferndale has treated its resident right, passing anti-discrimination laws and electing LGBT citizens to leadership positions on its city council and as mayor. Ferndale holds its own pride parade and has been home to Motor City Pride as well. Other festivals include Hotter Than July! in Palmer Park.
The area does have a number of LGBT organizations you can join if you decide to move to this city. LGBT Detroit is one of the largest. With more than two decades of actively supporting Detroit's gay and lesbian community and working for equality in the state and the nation, LGBT Detroit offers many different programs and resources. They publish KICK Magazine, host Hotter Than July!, and operate the LGBT Detroit Leadership Academy.
There are a number of other LGBT organizations in the Detroit metro area, plus the cities that make up the metro are home to bars, restaurants, clubs, and other LGBT-owned businesses. While Detroit may not be for everyone, if you're looking for a city with a more dispersed LGBT community that is still welcoming, it may be the city for you.