When someone mentions moving to a city that's very supportive of its LGBT citizens, many people immediately think of San Francisco, Seattle, or New York City.  However, while these cities do have large LGBT communities, there are actually a number of other cities out there that are just as welcoming, if even not more so, than the ones that immediately come to mind.  Here are a few of these underrated LGBT-friendly cities.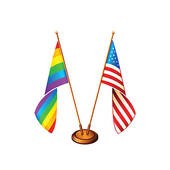 Albuquerque, New Mexico, may often get passed over in favor of Taos and Santa Fe, but the city is actually home to many gays and lesbians.  It has a number of gay clubs and restaurants, plus it's got some amazing sites—the Sandia Mountains are amazing, especially when viewed from the aerial trolley.
Columbus, Ohio, has a large LGBT community, especially in the German Village and the Short North neighborhoods.  There are several different gay sports clubs, art galleries, and even a thriving gay nightlife community.  The fact that the city is home to Ohio State University doesn't hurt any since it brings in many younger, more open people.
No one would ever think that Salt Lake City would be on a list of gay-friendly locales, but the Utah capital is actually very different from the rest of state.  It's features gay nightclubs, gay-friendly bed and breakfasts, and the Hotel Monaco, a popular LGBT hotel.  The Sundance Film Festival, which has shown a number of LGBT films, is also held in the city.  Even though the conservative Mormon Church is based out of Salt Lake City, many of the people there are very open and welcoming.
Detroit, Michigan, is mostly known for its failing auto industry and the fact that crime rates are fairly high.  That's enough to send many LGBT people packing, but for those who are willing to stick it out, the city is quite diverse and welcoming.  The suburbs of Royal Oaks and Ferndale have especially large LGBT populations, but Detroit itself is very gay-friendly.
Another Midwest city that's very open to LGBT people is Kansas City, Missouri.  Many gays and lesbians don't think of Kansas City as a place to settle, but there are benefits to living in the city.  It does have an active LGBT community, but it's much more low key.  The city's pride parade and other events draw good sized crowds, but they're not huge, over-the-top events like you'd find in some cities.
Thinking about moving to one of these areas?  There are many gay and lesbian realtors spread throughout the U.S. who can help you!