While Arkansas may not be one of the states leading the charge for LGBT rights, there are definitely some welcoming cities here. Don't let the fact that Arkansas is located in the Bible Belt deter you from moving to the state. There are definitely some great places to live here. If you're considering Arkansas for your future home, you'll want to talk to gay or lesbian real estate agents about moving to one of the following cities.
Little Rock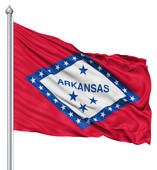 Let's start with the capital of the state. Little Rock has been on Advocate.com's list of the Gayest Cities in America, reaching as high as number 11. That's pretty impressive. The city is quite liberal, and you'll find a number of LGBT-friendly organizations, businesses, and churches. Living in one of the largest cities in Arkansas also puts you near many different event centers, shopping malls, and other amenities.
Eureka Springs
People considered Eureka Springs to be the Arkansas's gayest city. You'll see plenty of rainbow flags flying as you walk down the streets. Eureka Springs is a major tourist destination, and it's full of cute bed and breakfasts, novelty stores, and theaters. The city's position as one of the top LGBT areas in the south hasn't had any noticeable effect on tourism. There are still plenty of people visiting Eureka Springs even after it became the first Arkansas city to support same-sex marriage and enact a domestic partner registry. Eureka Springs doesn't have just one pride festival—it has four! You'll have nothing to fear moving to this Arkansas city.
Fayetteville
Fayetteville is something of a college town since it's the location of the University of Arkansas. With a younger demographic than other towns, it's no surprise that Fayetteville is quite welcoming. In fact, the city has been called "Gay-etteville" by many of its residents because of how supportive its citizens are. The Ozark Land Holders Association, one of the oldest lesbian communes in the U.S., can be found in Fayetteville. You'll also find a number of different drag shows, gay bars, and other LGBT-owned businesses.
Hot Springs
Hot Springs has a good sized LGBT population and is another tourist town like Eureka Springs. This town has a number of LGBT groups and events. It is classified as a national state park, which means that the area is one of the most beautiful in Arkansas. The city does have a number of anti-discrimination legislation on the books, too.
If you're thinking about making the move to Arkansas and have the freedom to decide where you're going to live, these four cities are great options.