So you've decided it's time to put down roots and buy a house.  That's a big step!  It's also a step that many people don't realize is actually a lot of small steps.  Buying a house is more complicated than simply finding a home, getting a loan, and buying it.  Here is a brief outline of the process of buying a house that will give you an idea of just what becoming a homeowner entails.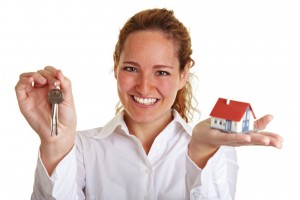 First, take a good, hard look at your finances to make certain you are really in a place to buy a house.  Get your credit report and go over it for errors.  If you find any, you'll want to take care of them before you start the loan process.
Next, gather all of your financial paperwork and go to a bank or other lending institution to get pre-approved.  While you don't have to do this, it does help in several ways.  You'll know the maximum amount you can get a loan for, so you don't have to worry about finding a house you love but can't afford.  It also shows sellers that you're serious about your offer.  Some sellers, in fact, won't entertain offers by potential buyers who are not pre-approved.
Have you found a realtor?  Take the time to interview a few and find the one who seems the most knowledgeable and fits well with you.  For example, if you want an historical house, find a realtor who specializes in those properties.  If you're gay, you might want to look for a gay or lesbian real estate agent.
Although you may have started looking at houses before getting pre-approved, now's the time you can really get down to it.  However, one more thing you should do before you seriously look at homes is to make a list of your must-haves, would-likes, and do-not-wants.  Share this list with your realtor so he or she can more easily find houses for you to look at.  Homes that don't have all of your must-haves (and keep them realistic!) are instantly off the list, as are those that have your do-not-wants (this may include location or something like a flat roof).
After looking at a number of homes, you may find one that seems to be perfect for you, or at least close to it.  Now it's time to make the offer.  Your realtor will pass your offer on to the seller and their realtor.
If your offer is accepted, you will return to your lender and complete all of the paperwork to be officially approved for the loan.  If it's not, the seller will make a counteroffer, which you can then accept if you like.  The game of offers and counteroffers continues until you reach an agreement or one of you walks away.
After financing has been secured, a closing date will be set.  This is when you officially take possession of the property and can move into your new home!