When many people think of buying a luxury home, they picture a mansion with a huge swimming pool and dozens of bathrooms.  Today, luxury real estate has been redefined.  Yes, many people still want the large mansion, but more and more people are looking at smaller properties that have specific appeal to them.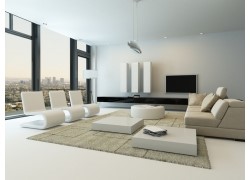 One of the biggest luxury items today is technology.  People want smart houses.  They want to be able to turn on the lights or change the temperature setting from their phones, have motion detectors throughout the home, or have a temperature-controlled wine cellar.  Having top quality items in the kitchen is also important.  The more parts of the house can be controlled from a smart phone or tablet, the more attractive that home is to many people.  Technology is luxurious now.
Another thing people are considering luxurious are homes that have a smaller footprint.  Rather than spreading outward, many people are looking at homes that go up.  These vertical mansions have more floors, but sit on smaller lots.  This allows people to build larger homes in areas where there isn't a lot of land for sale.  They also tend to have more open floor places that save space.  Kitchens, dining rooms, and living rooms flow into each other instead of being separated by walls.
A number of little touches and amenities also makes homes more luxurious.  A large master closet, for example, adds a lot more than just extra storage space: it makes a large impression on people.  Having things like USB outlets will see luxurious to those who have a lot of different devices they have to charge, while built-in bookshelves are a luxury to those with many books.  Anything that makes the buyer's life easier is considered a luxury for them.  Built-in storage, a large kitchen island, and a large number of outlets are just a few things buyers may be looking for.  Many also find a home that can be customized luxurious, so they're looking for those extra spaces that can be anything from an additional bedroom to a home gym to an office.
Finally, the definition of luxury changes depending on the location.  What buyers find luxurious in one city is not in another.  For those in humid areas where insects are an issue, sunrooms or enclosed patios are a must.  That's not as big of a deal in areas that are cooler.  Cities with efficient public transportation systems won't see as big a demand for multi-vehicle garages, while areas that are more dependent on cars will.  Your realtor can help you determine what, if any, amenities in your home could be considered luxuries and will play those amenities up to potential buyers.