Thinking about moving to Idaho?  You might be surprised at how LGBT friendly the state is.  Boise has actually been named one of the queerest cities in the country thanks to its theater community and its legal protections.  It also has the Idaho Gay Rodeo Association, which is very active, and other Pride events.  If you've been thinking about finding a gay or lesbian Realtor to help you move to Idaho, here are some more facts that could further influence your decision.
The State's Record on Same-Sex Marriage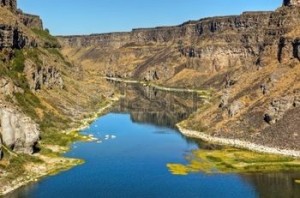 Idaho did pass a constitutional amendment defining marriage as between one man and one woman in 2006, although there were already statutes on the books saying the same thing that had been passed in the 1990s.  However, in May of 2014, this amendment was declared unconstitutional in Latta v. Otter.  The ruling was stayed for an appeal.  In October of 2014, the appeal was heard by the Ninth Circuit Court, which again found the amendment unconstitutional.  After the Supreme Court denied a stay, the governor declared that he would no longer fight the ruling, and same-sex marriage became legal on October 15.
Adopting in Idaho
The legal wording of Idaho's adoption permits says that any adult can adopt, and there's nothing prohibiting same-sex couples from adopting children, nor are there any prohibitions on second-parent adoptions.
LGBT Anti-Discrimination Laws
Unfortunately, the state has no laws that address discrimination and sexual orientation or gender identity.  This lack of protection has led to a number of different LGBT organizations to work towards a more equal state by petitioning the government to add these protections.  Several attempts have been made over the years to get laws passed, but they have always failed.
Fortunately, a number of cities have passed their own ordinances that prohibit discrimination against LGBT people.  These cities include Boise, Idaho Falls, Lewiston, and several others.
Idaho does not include sexual orientation or gender identity in its hate crime laws.
Where Should you Live?
If you're considering a move to Idaho, what cities would be the best?  Boise, of course, should be at the top of your list.  Idaho Falls, Lewiston, Meridian, Ketchum, and Victor are also good places to live.  The state is continuing to change and evolve, however, especially as more and more people become comfortable with the idea of same-sex marriage.  While Idaho may not be one of the most accepting states, it's also not one of the worst, and it's getting better.