New Orleans, or NOLA as it's often called, is known for Mardi Gras, the French Quarter, and its interesting history with things such as voodoo. But the city also has a long history of supporting the LGBTQ community. Major gay and lesbian icons got their start in the city, including Ellen DeGeneres, jazz musician Tony Jackson, and playwright Tennessee Williams.
It Began as a Known but Invisible Community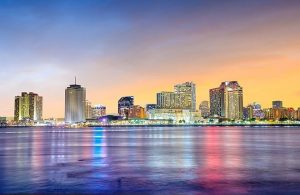 in New Orleans' history, the LGBT community was something of an open secret. Many people knew that some of their neighbors were more than just roommates, but it simply wasn't talked about or really acknowledged. On the other hand, these same-sex couples and the communities they formed in New Orleans weren't exactly discriminated against, either.
By the end of the nineteenth century, though, jazz was becoming more and more prominent. This actually brought some of the LGBTQ community into the spotlight. With that and the growth of the French Quarter in the 1920s, New Orleans soon became a refuge for those who identified as LGBTQ.
Life after Prohibition
In 1933, Prohibition officially ended. This led to a number of gay and lesbian bars opening in the city, providing the LGBTQ community with places to gather and celebrate together. Café Lafitte in Exile, one of the oldest LGBTQ bars in the U.S., opened in 1953 and became one of the hubs of the community. The Steamboat Club, one of the oldest social groups for gay men, started that same year.
The 70s and a Slow Burn
Unlike some cities, the Gay Liberation movement didn't explode in New Orleans. One part of this was likely due to the arrest of Clay Shaw in 1967. Shaw was a prominent business leader in the city in addition to being an out gay man. While it's uncertain if it was discrimination that prompted the District Attorney to charge Shaw with conspiracy to assassinate President Kenney, the outcome was that the LGBTQ community felt that speaking out was not a good idea. Shaw was acquitted later on, but the damage had been done. A fire at a gay bar in 1973 only made the community more hesitant.
The 1990s and a Reemergence of the LGBTQ Community
That changed during the 1990s, when more and more LGBTQ individuals started speaking up for their rights. The city passed a non-discrimination ordinance which was followed by more protections via executive order from the Louisiana governor. In 1997, hate crime laws were passed and New Orleans began offering domestic partner benefits to same-sex partners.
As the protections and acceptance of LGBTQ people in New Orleans have grown over the years, the city has become a hub of activities and events for the community. It's a great place to live, too, if you're looking to move to the south.