Finding a property that has enough space for your hobbies or reflects your personality and interests is certainly going to be important in your house hunt. You're unique, and you want a home that matches who you are. If you have a real estate agent who hasn't helped many LGBTQ clients, they may also have certain preconceived notions about what you want in a home. While it's possible a few of these stereotypes are true about you, it's just as likely none of them reflect your interests or who you are.
Lesbians Need a Garage or Workshop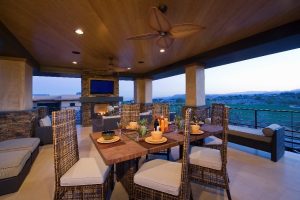 Everyone knows lesbians are good with power tools and love to build things, right? That's definitely not the case, but an agent who doesn't know any better may start showing you houses with two- or three-car garages or large workshops. While these spaces may be great even for those who don't build things (extra storage is always nice), it may not be a priority. The best thing to do in this case is to make it into a joke: "Oh, yes, my single hammer and two screwdrivers will look great in this 500 square foot workshop."
Another related stereotype you may find from agents is that you're looking for projects. They may be under the assumption that you'll want to remodel whatever home you buy when you're actually looking for something that's move-in ready and requires no work at all.
Gay Men Entertain
Some agents may assume that same-sex male couples love to entertain. They will show you homes with large open floor plans, big kitchens, and amazing outdoor spaces. You may love all of that, but you may also be the type who doesn't really do big gatherings. Maybe you only ever have a few friends over at a time and never host family events. That's perfectly fine, and you can certainly let your agent know that you don't host large viewing parts of RuPaul's Drag Race every week.
Along those same lines, you may mention that you don't need a giant closet for your huge wardrobe of designer clothes or space for dozens of pairs of shoes. Your preferred outfit may be a pair of jeans and a t-shirt.
Working with a Gay or Lesbian Real Estate Agent
If you want to avoid these stereotypes completely and work with someone who is more likely to understand your needs, you may want to work with a gay or lesbian real estate agent. These agents are more prevalent than you might think, even in more conservative areas. They can assist you with finding the home of your dreams without making you feel uncomfortable.