When you usually think of welcoming, open places to live, you probably think of large cities.  New York, San Francisco, and Seattle are known for their large, diverse populations.  Smaller cities, on the other hand, are more associated with close-minded groups of people who dislike change and don't want to live near anyone who isn't like them.  However, there are some small cities that are surprisingly LGBT-friendly.  Here are a few of them.
Eureka Springs, a small mountain city in Arkansas, is the state's gay capital.  The town has a permanent population of less than 2,500 but because there are many tourists there year-round, it may seem somewhat larger at times.  Eureka Springs hosts a Diversity Weekend four times every year, and there are many different gay and lesbian-owned shops, restaurants, and hotels spread throughout the town.  Even if you don't want to live there, it's a great weekend getaway destination.
Portland, Maine, has a very large LGBT population.  In fact, it's one of the largest in the New England area.  The city hosts Frostbite ME, a winter LGBT pride event.  While few people would think of a city of 65,000 as a "small" city, but it is when compared to Boston, New York City, and some of the other huge metro areas nearby.
Ann Arbor, Michigan, is a small college town located a little over 30 miles from Detroit.  As with many college towns, Ann Arbor is very open and welcoming, and its population is fairly diverse.  The gay bars and clubs here have long lists of regulars, and some have been in operation for decades.  The different LGBT groups are great ways for residents to meet new people and, in many cases, give back to the community or work for LGBT equality.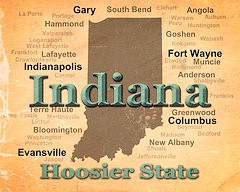 One name many people may be surprised to see on this list is Bloomington, Indiana.  Why would any gay or lesbian people want to move to Indiana?  Bloomington is actually very welcoming.  Like Portland, Maine, Bloomington is on the larger side—around 70,000 people, mostly thanks to the fact that Indiana University is located there.  There are a lot of diverse people in Bloomington, and you'll find a large number of LGBT-owned stores and restaurants.
Considering a move to one of these smaller cities?  A gay or lesbian real estate agent will be able to help you find the best place for you and your family to settle.