Real estate agents in the Bay Area have people asking about moving to San Francisco all the time. They have certain ideas of what it would mean to live in what's often thought of as the gay capital of the U.S. But as any Realtor will point out, the reality of San Francisco is a far cry from how the city is often portrayed in films. Some people take a closer look at SF and realize it's actually not the best place to live—in fact, some think it's the worst! Here are some of the pros and cons for living in the San Francisco area.
You're Surrounded by the LGBT Community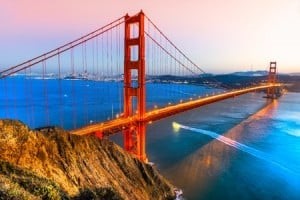 San Francisco is home to a large number of LGBT people, and you'll see them everywhere. It's one of the few places you can truly feel like you're equal and that you can be yourself without worrying about being judged or attacked. You can walk hand-in-hand with your partner and not feel nervous.
… But they're not all Local
Meet someone at a coffee shop who you felt a real connection to? Chances are, they're just passing through. The city is a major international destination for tourists of all orientations and nationalities. On the plus side, you'll find some amazing international cuisine and get to meet some awesome tourists. On the downside, finding someone local to make friends with or date may be difficult.
The Weather
It's both a blessing and a curse. Many residents joke that you need to carry an extra set of clothes every day because while it may be sunny in one part of the city, the other part is covered in chilly fog. But these views are also absolutely stunning, and it's one of the few places where you can really jump from one microclimate to another. You'll never get bored with the weather here, plus it's an excuse to go shopping.
The Events
If you look at the city's calendar of events, you may simply become overwhelmed. There's always something going on. From the annual Pride festival to the Folsom Street Fair, it seems like there's always a parade, festival, performance, or art show going on. And that's just in the LGBT district! Of course, it's easy to get overwhelmed, and you may find yourself making plans every weekend before you realize that you need to slow down.
These are just a few reasons why San Francisco is a great place for LGBT people to live and yet can be stressful. It's a unique community, and if it's right for you, it can be a great home.