Few people think about going to the far Northeast for a summer getaway, but that's exactly why many people visit Ogunquit, Maine. That weird name is from the Abenaki language, the indigenous people of the area, and translates to "beautiful place by the sea." That certainly describes this small little town. It has a permanent population of less than 1,000 during the off season, but that number jumps during the summer.
History of Ogunquit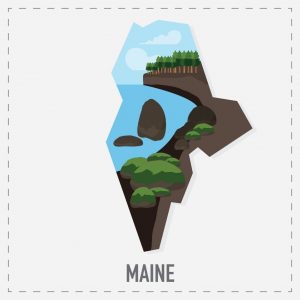 The area was settled by the Abenaki tribe of native Americans. In 1641, a number of European settlers arrived in the area and set up a village. Later, a sawmill and shipyard were built near the Ogunquit River. By the late 1890s, many artists had moved into the area, and it wasn't unusual to see both fishermen at work while artists painted them. During this time, the area became a popular summer vacation destination, and it wasn't long before the number of hotels outnumbered the fishing boats.
In 1980, Ogunquit officially separated from the city of Wells to become its own town. By this point, the town was a full-on tourist destination and was attracting people from as far away as Australia. People even started to come for other reasons than the beach. Horror fans who read Stephen King's The Stand began visiting Ogunquit to see the places he mentioned in the book.
The LGBTQ Community
Around the mid-80s and 90s, the LGBTQ community became quite prominent in Ogunquit. There had always been a number of LGBTQ artists in the area, but during this time, the town become a major tourist destination. Many LGBTQ-owned restaurants, hotels, bars, and other businesses opened in Ogunquit, mostly in the old village area. The town's tourism industry became even more prosperous, leading Ogunquit to being named America's Best Coastal Small Town in USA Today's 2016 Reader's Choice issue.
The town has also started undergoing gentrification. Older parts of Ogunquit have been restored, and housing costs have increased because of this. The cost of living is significantly higher in some areas, especially housing, although the cost of other things, including groceries, healthcare, and even utilities, are around average for the country and below average for Maine.
If you're able to handle these costs, though, Ogunquit is a great place to live. During the off season, it's a very quiet town. However, it's close enough to the Portland-South Portland-Biddeford metro area that it's not too far away from the amenities of a large city. You'll find a number of gay and lesbian real estate agents who can help you find the perfect home in this little village.