Columbus, Ohio, is a great place for same-sex couples to live.  The city has a very good sized gay community and has appeared on both top ten lists and underrated gay cities lists for years.  Same-sex partners have been able to register on the city's domestic partnership registry since 2012.  The city also hosts a Pride Parade in June every year.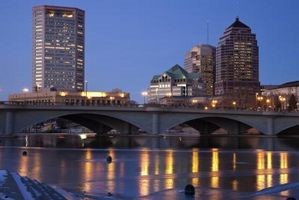 While Ohio is considered one of the Midwestern states, the city of Columbus doesn't have the same atmosphere as many of the nearby cities.  The LGBT population goes about building up support for gay rights in a quiet yet effective manner.  While there are some LGBT-owned businesses and the pride festival gets plenty of attention, it's the behind the scenes work that has really made the city so gay friendly.  Since the 1980s, the LGBT population has slowly made more of the neighborhoods open and welcoming.  The number of liberal arts colleges and large businesses that support gay rights, such as Abercrombie & Fitch, have certainly helped.
There are many great neighborhoods in Columbus for LGBT families.  Lake Bottom Park, also called Weracoba Park, is a favorite for many.  There are a good number of LGBT-owned businesses here, plus the housing costs and rent are fairly low.  It's a small, historic area that many gay and lesbian real estate agents recommend.
Victorian Village is another great neighborhood.  It's a part of downtown Columbus, and it's one of the areas that has been rejuvenated over the years.  What was once a fairly dangerous part of town is now very safe and looks great.  The architecture is very unique, and many of the businesses are gay-owned.  The nearby Short North district is also a great community for LGBT families.
Finally, the German Village, which can be found south of the downtown area, features many privately restored homes and other buildings.  It seems like everything is within walking distance in the German Village, and there are a lot of great parks to take the kids to.
Unfortunately, Ohio does not currently allow same-sex partners to marry.  The state passed a constitutional amendment in 2004 to that effect.  The ban was upheld in August of 2014 when the Sixth Circuit Court of Appeals stated that Ohio was not required to recognize same-sex marriages conducted in other states and that the ban was not unconstitutional.  The case has been appealed to the Supreme Court.  Despite this, many LGBT people still enjoy living in Columbus, and most expect the courts to rule in favor of same-sex marriage in the coming year.