New York City – it's one of the most well-known destinations in the world.  It's also one of the most important historical LGBT cities.  The Stonewall Inn, site of the famous Stonewall Riots on June 28, 1969, is located in the Greenwich Village area of the city.  Many point to Stonewall as the event that began the LGBT liberation movement.  New York City was also one of the first cities to host a pride parade and to be home to gay activist groups.  Today, many gays and lesbians move to New York City for a variety of reasons.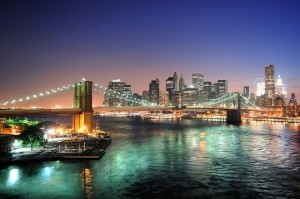 Those in the theater industry know New York is where it's at.  Broadway and the many off-Broadway shows give singers, dancers, and actors all a chance to shine.  Of course, not everyone will hit their big break right away (or at all), but you'll find plenty of people striving to kick-start their acting career.
If you're one of these aspiring actors, you probably already know you're going to have to take a part-time or full-time job to pay your bills while you're auditioning.  Unfortunately, if you've never lived in a large, expensive city before, you may believe you're set with one of those jobs.  Even in the cheapest areas of NYC, you're not going to be able to afford much on one salary.  Be ready to either live in a very bad area or with several roommates.  Even the gay neighborhoods are very expensive, especially the more well-known ones like Chelsea.
If you're okay commuting, it's actually much cheaper to live in New Jersey and take the train into the city.  Real estate prices and rent are often a third or less of what you'd pay in New York City.  There are also some cheaper areas in the city, such as Park Slope and Nyack, but they will also require a commute because they're further out on the edges.  However, for those new to NYC and living on a budget, these are the areas you'll find as more affordable.
Fortunately, those who move to New York will have the right to marry.  Same-sex marriage became legal in July of 2011.  The state also recognizes other partnerships and recognizes out of state same-sex marriages.  However, the legislation also includes a clause that lets religious organizations decline to perform same-sex weddings.
If you're thinking about moving to New York City, you'll certainly want a good gay or lesbian real estate agent to help you find a home that fits your budget and lifestyle.