Thinking about moving to New Jersey?  A  gay or lesbian real estate agent is definitely a necessity if you are.  New Jersey is the most densely populated state in the nation, which means you're going to need some help finding that perfect home.  There are so many people in New Jersey and such little space that it can be more difficult to find a good place to live without some assistance.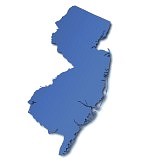 Fortunately, LGBT people in the state are protected in a number of ways.  Anti-sodomy laws were repealed in 1978, and state welfare agencies abolished anti-LGBT adoption policies in 1997.  In 1991, the New Jersey Law Against Discrimination was amended to prohibit discrimination based on sexual orientation.  It was then amended later in 2006 to include gender identity.  LGBT people are protected from discrimination in employment and in housing, plus there are a number of different hate-crime laws on the books.  In 2013, conversion therapy aimed at minors was outlawed.
What about marriage rights?  Civil unions were instituted in 2006, but the state did recognize same-sex marriages performed in other states, at least in terms of allowing divorce.  Starting in October 21, 2013, New Jersey began issuing marriage licenses to same-sex couples.
Reflecting the state's fairly progressive views on same-sex marriage (at least when compared to many other states), there are a number of great cities in New Jersey where you'll find major gay districts.  Trenton, the state's capital, is home to the Mill Hill Historic District.  This district features restored homes, easy access to New York, and more.  Many LGBT singles and families live in the area as well as other parts of Trenton.
The entire town of Maplewood is a diverse, liberal little mountain village that's only about half an hour away from New York City.  It was one of the first towns in the state to offer a domestic partner registry, and it's great for people who want to live near a large metropolis but still want that small-town charm and relaxed atmosphere.
South Orange was the other town in New Jersey to create a domestic partner registry at the same time as Maplewood.  Like Maplewood, it's also a very diverse community and is full of both historic homes and some newer colonial-style houses.  It's also close to New York City and is a perfect little suburb for those who want a quiet town to raise their children.