San Francisco—the gay Mecca.  Almost everyone in the LGBT community visits the city at least once in their lifetime.  Many want to move to San Francisco because they feel like they will be able to express themselves in the city without any threat of violence.  However, while a lot of people are geared up to move, their dreams come crashing down when they see some of the price tags that accompany homes in the area.  San Francisco isn't cheap, especially if you want to live in the coveted gay district of the Castro.  But there are some neighborhoods that are more affordable than others.  You just have to know where to look.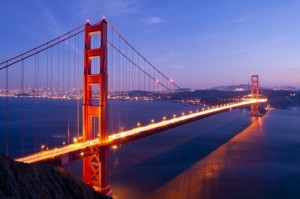 Nob Hill is one area that realtors have recommended to those who are new to the SF area.  This was once the fancy, popular neighborhood, but it's been overtaken by other parts of the city.  It's no longer the place to live, so housing prices have dropped.  That doesn't mean it's not a nice neighborhood—it certainly is—but it's not the hip place to be now.  It's a very safe, quiet area, too, but be careful: Nob Hill truly is on a hill, so those who have trouble walking up steep inclines may have some issues.
Inner Richmond, on the other hand, is one of the up and coming areas that has drawn some people out of Nob Hill.  One of the great reasons why Inner Richmond is a great place to live is because of the bus line that runs through the neighborhood.  You won't have to worry about driving up steep hills or paying for parking—just take the bus.  While real estate can get pricy here, there are some hidden gems that are quite affordable.
The Mission is another area that is very affordable.  However, it has a reputation: the neighborhood had major gang-related violence and crime for years.  Today, however, crime rates are down, and The Mission is becoming more gentrified.  Homes here tend to fall into two categories: large and expensive or small and cheap.  If you don't need a big space, this area is a good option.
Finally, Potrero Hill is another small neighborhood that's becoming fairly popular.  It's on the edge of San Francisco, which is why it's more affordable, but people who live there will most likely need to own a car to get around.  Fortunately, while parking can cost upwards of $300 or more a month in the middle of the city, it's much more affordable out at Potrero Hill.  For those who are on a budget, there are a number of cute little apartments and smaller homes.  Those with more money to spend might want to look at the new lofts that have sprung up along the waterfront.