Texas may not seem like a place a LGBT person would want to move, but you'd actually be surprised at how amazingly different some parts of the state are.  While Texas has certainly earned its reputation as a very conservative state, the three largest metro areas in Texas are very liberal.  Dallas, Houston, and San Antonio all have thriving gay communities.  In fact, Dallas is home to one of the largest LGBT communities in the country.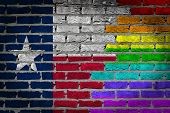 One of the signs of how open and accepting Dallas can be is that it's home to the Cathedral of Hope.  This church, which is a part of the United Church of Christ, is known for being the largest inclusive church in the world.  The congregation of more than 4,000 people is largely made up of LGBT people.  The cathedral is over 40 years old.
Dallas holds a number of different LGBT events every year.  The largest of which is the Alan Ross Texas Freedom Parade and Festival.  This pride festival has been held every year in September since 1983.  More than ten thousand people travel to Dallas for the festival every year.
The main LGBT area in Dallas is Oak Lawn, one of the oldest officially recognized LGBT communities in the U.S.  This neighborhood is centered around Oak Lawn Avenue and Cedar Springs Road.  There are many different LGBT restaurants, shops, other unique businesses, many of which are within walking distance.  The area is just a few minutes from Downtown Dallas, too.  If you don't want to walk somewhere, you can make use of Dallas's public transportation network or jump into Dallas traffic.  Be aware, however, that many people find driving in Dallas to be very frustrating.
While Oak Lawn may be the most well-known LGBT community, Dallas does actually have an area called the Gayborhood.  This neighborhood is located to the northwest of Oak Lawn.  The Gayborhood became the overflow area when Oak Lawn started to get too crowded and expensive for some people.  This is an older area, but it's still quite affordable, and it's very diverse.  Many newcomers to Dallas settle in this area because of how gorgeous it is.
Oakcliff is another great area for LGBT people to live.  Many of the houses in this area have been renovated, which means housing costs have gone up somewhat.  However, the area is almost all gay-owned, and Oakcliff is becoming an alternative gay strip to Oak Lawn.  It's also very close to the downtown area, so getting around is no problem.  If you're interested in moving to one of these areas, your friendly gay or lesbian realtor can help you.