Residents of California will tell you that Napa Valley, often simply called Napa, is one of the most popular tourist destinations for wine lovers in the state.  The Napa area is technically a part of the San Jose-San Francisco-Oakland combined area, but it's usually thought of as separate from those three large cities because it's so different.  There are many different wineries, bed and breakfasts, restaurants, and more in Napa, but many people only think of this when they think of the area.  Napa encompasses so much more, including a railroad, two small airports, two colleges, and more.  That's why many LGBT people don't just visit Napa, they live there.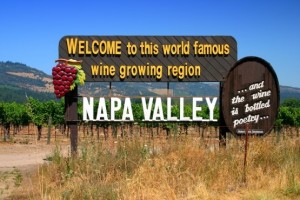 The city of Napa itself is fairly gay friendly, although some people have rated it not as accepting and open as San Francisco or Sonoma County.  However, it's definitely a very tolerant area, and if you're in a touristy part of town, you'll see many other LGBT couples there exploring the valley and everything it has to offer.
Napa does have an active LGBT community.  The Napa LGBTQ Connection, for example, is a very active organization that promotes gay and lesbian acceptance and visibility.  They are also a multicultural organization, offering many of their programs and resources in both English and Spanish.  If you're thinking about moving to Napa and have any questions, you may want to contact someone from this group.
The Napa Valley LGBTQ Pride event is held every year in June.  It stretches over eight days and features 13 different events celebrating the Napa LGBT community.  With activities for children and families, food, live entertainment, a bonfire, a parade, and much more, this is a pride event you won't want to miss if you're in the area.
Of course, if you're going to move to Napa, you're going to want to work with a gay or lesbian realtor.  The properties in this area tend to go quickly and for a good amount of money because the area is very beautiful.  Some houses can be found for around $250,000, but these cheaper homes are also fairly small and are usually located in less than desirable parts of town.  Some of the larger homes in Napa, especially the really fancy ones, are $10 million dollars or more.  Of course, these homes are thousands of square feet and have plenty of extras, so they're worth every penny.  If you want a nice place to relax and retire to, an estate in Napa that sits on a dozen or so acres is certainly a great option if price isn't a consideration at all.