Renting to own, also called a lease option or lease purchase, can be perfect for those who want to own their own home, but simply can't get financing or are unable to come up with a down payment.  A portion of the monthly rent is applied against the price of the home.  Often, homeowners have covered their down payment within a year of renting the property.  In that case, they may be able to go ahead and get permanent financing to purchase the home.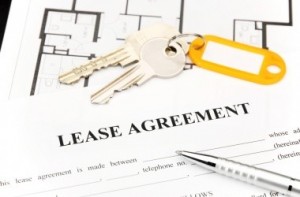 How does a lease option work?  Usually, the seller and buyer agree that the buyer will rent the property for a certain amount of time (usually no more than five years).  Sometimes, an up-front consideration fee is required, but that's not always the case.  The renters pay their rent until the agreed-upon time is up, they then have the option to buy the home with a pre-determined amount they've paid in rent, going towards the cost of the property.  If for whatever reason they decide not to go through with the purchase, they may have the option to continue renting the property—this really depends on how the agreement is written.
Finding a seller who is willing to do a lease option may not always be easy.  Many prefer to simply sell the property and be done with it.  If they're technically a landlord, they may be required to handle upkeep and other maintenance.  They also typically have to continue to pay all of the taxes associated with the property and continue to provide insurance.
Buyers should beware of entering into a lease option without thinking it all the way through.  If for some reason the deal does fall through in the end, the potential down payment money is lost.  There's also the fact that even though you're renting to own, you don't technically own the home until you get financing and make the actual purchase.
Despite these factors, renting to own can still be a good idea.  For sellers, it offers the chance to at least get someone in the house and start making rent money.  That can be very attractive if the property has been on the market for a good amount of time.  For buyers, it's a chance to start the buying process without dealing with financing, at least in the beginning, or worrying about a down payment.
Before you sign a rent to own contract, make certain to have it examined by a real estate attorney or top real estate professional at GayRealEstate.com.  These contracts can be tricky, and you want to make certain you're getting the best deal possible.