When you move into a new neighborhood, you're gaining more than just a new house, new yard, and new location. You're also gaining a brand new set of neighbors. If you're not one to really talk to your neighbors, you may not plan to deal with them at all. However, most people at least acknowledge their neighbors and are friendly with them. That means you may have to come out to them, especially if they want to be on quite friendly terms.
Should You?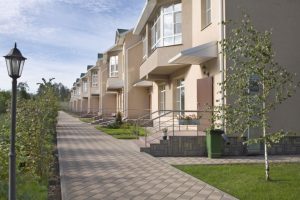 The first question you may ask yourself is if you even want to come out to your neighbors. If you're single, it may not be worth it, even if you are currently dating someone. It's unlikely that your neighbors will realize that the person who is coming over all the time is your significant other unless you're engaging in any type of display of affection where they can see. On the other hand, there's no real point in lying about who you are unless you have reason to believe that one of your neighbors may be homophobic. If you truly feel unsafe, you may have to determine whether remaining in the home is even the right decision.
How to Come Out
Coming out to a neighbor isn't really the same as coming out to friends and family. It doesn't have to be any sort of announcement. You could simply mention your spouse as either your husband or wife and leave it at that. If you don't want to go that far, just mention you and your spouse or partner have just moved in. Your neighbors will see the two of you together and work things out themselves. If they ask questions or want to talk more about it, you're free to be as open as you feel comfortable, but you're under no obligation to tell your new neighbors your entire life story.
Dealing with Uncomfortable or Rude Neighbors
There's always the risk that one or more of your neighbors are not accepting of the LGBTQ community. When that occurs, the best thing to do is to simply ignore them as long as they do nothing that threatens you or your property. There's no reason to cause drama on the street, but you also have to make certain you're safe and that no damage is done to your new home. If they're willing to keep their distance and simply give you disapproving looks, you can take the high road and ignore them. If they verbally or physically attack you or damage your property, however, you have every right to contact the police.