Considering a move East? Baltimore, Maryland, has a lot going for it. With over 600,000 residents in the city itself and more than 9 million in the Washington-Baltimore combined area, you're sure to find many people who share your ideas and values. In fact, Baltimore has a thriving LGBTQ community that is very welcoming to new residents. If you're thinking about a move to Maryland, here are a few reasons why Baltimore might be ideal for you.
Mount Vernon and Beyond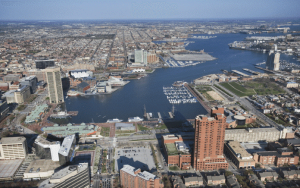 Baltimore's gayborhood has traditionally been centered around Mount Vernon. Gay and lesbian real estate professionals have found, though, that the LGBTQ population of Baltimore is now much more spread out. Part of this may have to do with the GLBT Community Center's move to the Old Goucher area. As the host of Baltimore's pride festivities, this means the event relocated as well. Today, Old Goucher is considered the modern gay neighborhood, while Mount Vernon still has many LGBTQ residents who have lived there for years.
The Hampden neighborhood is another popular area for LGBTQ residents. In fact, it actually hosts its own pride event, HonFest, every year. Abell, Charles Village, and Waverly have all traditionally been welcoming neighborhoods, too.
A Top Retirement Destination
Another reason why Baltimore has a growing LGBTQ community is because it's considered a top retirement destination. The city's cost of living, number of highly rated hospitals, and mild weather make it a great place for those looking to enjoy their golden years.
The Cost of Living is Affordable
Living in the Washington, D.C. area is not cheap. If you don't mind commuting an hour and a half or so one way, you can live in Baltimore and work in DC. You can also take the train, too, which gives you time to work, read, or just relax on your way to and from work.
The cost of living in Baltimore is actually lower than many of the large metro areas on the East Coast. While housing costs are a little higher than the national average, they're still lower than homes in DC, New York City, and other nearby cities.
It's Great Weather
Hate hot summers and cold winters? Baltimore weather tends to range between 55 and 75 degrees Fahrenheit, so it's fairly comfortable. The city doesn't get a lot of rain, either, although some winters have seen a good amount of snow.
Overall, Baltimore may be the perfect new home for you, especially if you're looking for a comfortable city to retire to.