Many senior citizens in the LGBT community find themselves with a dilemma as they age. Some simply don't feel welcome in senior centers and assisted living facilities. Part of this has to do with age and how older generations are not always as accepting of LGBT individuals as younger people are. Others simply do not want to give up the homes they have worked so hard to purchase. They may have discussed selling with a LGBT real estate agent, but the idea of giving up their freedom doesn't always sit well. Some don't even want to move into assisted living because they see it as a step towards a nursing home.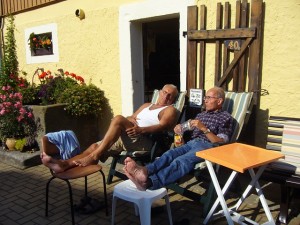 But there are a number of other options, one of which is to look for affordable senior housing that caters to those in the LGBT community. Once such housing project was recently announced by Carrfour Supportive Housing. This project will be built in Wilton Manors, Florida, and is being developed alongside The Pride Center, the local LGBT community center. The resulting apartments will be called The Residences At Equality Park and will have 48 units of different sizes.
The complex will provide those over 55 with affordable housing and even some security features they might find in an assisted living facility without giving up any of their freedom or individuality. The only other qualification for moving into the complex is that individuals must meet income guidelines, which include making no more than 60 percent of Broward County's average income. Current, the median income is around $35,000.
This income guideline addresses another issue many seniors have about their home. Once retired, most live on a very fixed income, but some also continue to pay on their mortgage. This can make their finances very tricky, especially if they don't have much in savings. Those in the LGBT community may find it even harder to deal with finances and with retirement if they have no family to lean on or get help from. In the end, they may end up losing their house and find that they're unable to afford any other housing alternative.
With The Residences, however, that will no longer be an issue. The developers are also planning to address the homelessness epidemic of those with disabilities and illnesses—34 apartments will be set aside to house individuals with these needs. The complex will be finished in 2018.