While the LGBT community continues to battle for equal rights today, we've come a very long way since June 28, 1969. That's the date many use as the beginning of the LGBT rights movement. It's the date of the riots at the Stonewall Inn in New York City. This movement started with police harassing gay individuals at the bar, but it's resulted in so much more than just protection from harassment. Let's take a look at how LGBT rights have evolved over the years.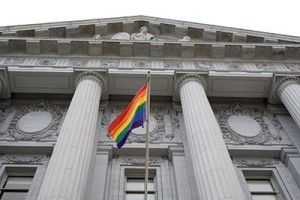 Exactly a year after the Stonewall Riots, the very first pride parades were held in Los Angeles, San Francisco, Chicago, and New York. While much smaller than the weeklong festivals found in some cities today, these parades were the first time the LGBT community took a large public step forward and demanded equal treatment.
The next major milestone came in 1973, when the American Psychological Association voted to remove homosexuality from its list of mental disorders. This showed that there truly was no connection between being gay and being mentally ill.
The first LGBT elected city official, Harvey Milk of San Francisco, was assassinated on November 27, 1978. Milk was a major fighter for LGBT rights, and his legacy has continued to live on long after his life was cut too short. Later, in 1987, Representative Barney Frank, a congressman from Massachusetts, came out publicly. He was the first member of either house to openly announce that he was gay.
Unfortunately, the mid-1990s were not a good time for LGBT rights. "Don't ask, don't tell" prevented LGBT members from serving openly in the U.S. armed forces. In 1996, the Defense of Marriage Act prevented the federal government from recognizing any marriages between members of the same sex, denying them a number of legal protections. It would be declared in June of 2013, however.
Of course, the largest step forward for the gay rights movement began in 2004, when Massachusetts recognized same-sex marriage. Following that move, the issue became a polarizing one, with some states following Massachusetts and others amending their constitutions to prevent same-sex couples from marrying. This battle came to a head in 2015 when the Supreme Court voted in favor of the right to marry in Obergefell v. Hodges. While most people recognize this case as the one that made same-sex marriage legal, it did much more than that. Now able to become full legal spouses, LGBT couples no longer had to fear being barred from hospital rooms or losing their home if their partner died. They now don't have to do any extra paperwork to be equal partners in real estate or when applying for a mortgage.
However, the fight continues today, and while LGBT citizens certainly have more rights today than they did even ten years ago, there are still more areas of the law where discrimination and inequality are present. Hopefully it won't take another 50 years to change that.