There are some amazing gay neighborhoods out there, some of which people know about and others that are virtually hidden away.  If you're thinking about moving to a gayborhood, as they're called, you should definitely speak to a gay or lesbian Realtor in your area.  They may know of a few hidden gems out there.  You can also look into these gay neighborhoods.  While not every city will have one, a number of places do have areas where LGBT people congregate.
The Castro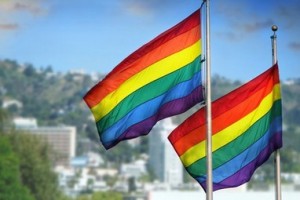 Of course the Castro will be at the top of the list. It's the most well-known LGBT neighborhood in the U.S.  LGBT people from around the country and the world make pilgrimages to this area to shop at the unique stores, see some of the amazing plays and musicals, and check out the drag shows.  Of course, the Castro is expensive, and it's not necessarily the ideal place for some people.  However, it's a great neighborhood to visit.
South Beach
Want to hit up the other coast?  How about South Beach, Miami.  Florida has a nice, temperate climate almost year-round, which makes it ideal for those who want to retire somewhere that doesn't get ice and snow.  A lot of the nightlife has actually moved from South Beach to Fort Lauderdale, which means this area is a little quieter now.  There are still plenty of fun clubs and drag shows to check out, of course, plus cafes, restaurants, locally owned businesses, and more.
West Hollywood
West Hollywood is often seen as a bit of an oasis in the crazy world of Los Angeles.  It's one of the places where you can walk to just about any place, and you'll often find people headed over to one of the many different cafes or bars.  There are a few nightclubs and dance spots, too, plus one of the most popular 24 hour gyms is located in WeHo.  While you can get to just about anywhere in LA from a home in West Hollywood, you have a lot of what you need right there.
Chelsea
Finally, there's Chelsea, New York.  Many people think of NYC as a great place for LGBT people, and it is, but few realize that the true gay ghetto is Chelsea.  While Manhattan may be the place to go for shopping, it's Chelsea you want to head to if you're looking for great food, amazing gay bars, and to get a great workout at the gym!