Thinking about moving to Rhode Island?  The state has a number of LGBT celebrations, including the Providence LGBTQ Film Festival, a Youth Pride event, and much more.  There are many reasons you might want to move to the state, including the fact that it is one of the more progressive places in the U.S.
Rights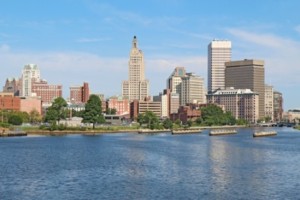 Rhode Island was ahead of the curve in same-sex marriage, recognizing civil unions in 2011 and full marriage in 2013.  The legislation legalizing same-sex marriage passed with little opposition in the house and had the full support of then-governor (and now presidential candidate) Lincoln Chafee.  However, the state had recognized the same-sex marriages done in other states starting in 2007. The state also repealed all anti-sodomy laws back in 1998 after seven attempts.
As far as benefits go, the state started giving state employees same-sex partner benefits starting in 2001.
In 1995, Rhode Island added sexual orientation to its anti-discrimination policy, and in 2001, they added gender identity. Both identity and orientation are also included in the state's criminal hate crime statutes.
Same-sex couples have routinely been cleared to adopt children for several decades now, and they do not even need to live in the state to go through the state's adoption system.  Both people are listed as the parents, and the child's birth certificate is even amended as such.
Where to Live
If you're looking for the best city to live in for LGBT activities and community, gay and lesbian real estate agents will all point you to Providence.  The capital of the state is often called one of the gayest cities in the U.S.  This is evident by the fact that it became the first state capital city to elect an out gay mayor in 2002 (which also made it the largest city to have an LGBT mayor, although that's no longer true since Portland, Oregon elected an out mayor in 2009).
One of the reasons the LGBT community is so large in Providence is because there are three progressive universities in the state.  The students who come to these universities are often fairly liberal, and many decide to remain in Rhode Island.  This has led to the LGBT community quickly growing.
If you're looking for a New England state to call home, Rhode Island may be the perfect fit for you.  It's been named as one of the Best Places for Lesbians to Live and is certainly welcoming to LGBT people.