Nebraska is located almost dead center of the United States, but its central location doesn't necessarily make it a hot destination for LGBT people.  Part of this is the state's reputation for being nothing but a treeless prairie with little to do.  It's true that much of the land in the state is used for cattle ranches and farming, but Nebraska does have several large urban areas, including Omaha, Lincoln, and Bellevue.  But as an LGBT person, should you move to the state?  Gay and lesbian realtors have often been asked this question, and the answer usually depends on what you're looking for.  As far as basing your decision only on LGBT rights, though, the answer is a little easier to determine because there are some areas of the law that are not exactly LGBT-friendly.
History of LGBT Rights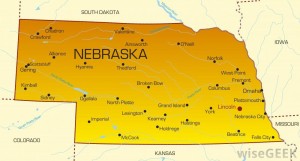 A look at Nebraska's history with LGBT rights starts off fairly positively—the state repealed sodomy laws in 1977.  In fact, this repeal is rather unique in that it's the only sodomy statute that was repealed by a veto override.  Then-Governor J. James Exon had vetoed the original legislation that would have revised the state's criminal code and removed sodomy from it, but the legislature voted to override this.
In 2000, voters of the state passed a constitutional amendment defining marriage as between a man and a woman.  That ban was set to be struck down in 2005/2006 by the case Citizens for Equal Protection v. Bruning, but the Eighth Circuit Court of Appeals overturned a lower court ruling and determined that the ban was constitutional.  It was struck down again in 2015 in Waters v. Ricketts, a decision that was stayed until Obergefell v. Hodges was heard by the Supreme Court.  When that case resulted in the legalization of same-sex marriage nationwide, the Attorney General of the state quickly issued a statement saying that Nebraska would comply with the ruling.
Raising a Family in Nebraska
The state of Nebraska allows individuals to adopt children regardless of sexual orientation, and it does not have any laws explicitly prohibiting same-sex couples from adopting.  However, second-parent adoptions terminate the rights of the other parent.
Discrimination
Nebraska has no laws protecting people on the basis of either sexual orientation or gender identity.  This allows for discrimination in housing, employment, and public accommodations.  Hate crime laws do include provisions for sexual orientation but do not address hate crimes committed based on gender identity.