Gallup has once again compiled a list of the top large U.S. metro areas with high LGBT populations.  The organization does polling like this on a fairly regular basis, and the results are sometimes unexpected.  It's true that some cities on this list may be surprising, but some are exactly where you'd expect them to rank.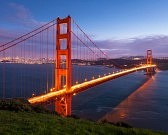 Number one, for example, is the San Francisco-Oakland-Hayward metro area.  The poll shows that 6.2 percent of the population self-identify as lesbian, gay, bisexual, or transgender.  The city has always been considered a must-visit destination for many in the LGBT community because of its openness and acceptance.  Some people visit and fall in love with the city, resulting in its high LGBT population.
However, San Francisco's lead over second place is actually not as high as it once was.  The Portland-Vancouver-Hillsboro area reported a 5.4 percent LGBT population, meaning less than a point separate the two.  Gay and lesbian realtors won't be surprised at this—the Portland LGBT community has been growing by leaps and bounds in recent years.  The city's welcoming nature combined with its creative atmosphere makes it a very attractive place to live for many.
Third place on the list may be really surprising.  It's not LA, Boston, New York, or Seattle.  Instead, it's Austin, Texas!  Many people think of Texas as being a very conservative, anti-LGBT state, but the larger metro areas are actually very welcoming.  Austin has a thriving LGBT community, and it nearly pushed Portland off the list for second place—the two are separated by 0.1 percent.
New Orleans follows Austin, which may be surprising to some people, but those who have been to New Orleans understand.  This is the city that puts on Mardi Gras, after all.  It's a very friendly place with a number of LGBT-owned businesses and, of course, gay bars.
But what about the other end of the list?  Which of the top 50 largest metro areas has the smallest LGBT population?  Birmingham, Alabama, was on the bottom of the list with 2.6 percent.  This isn't really surprising considering how conservative Alabama is.  The fact that the state is actively fighting against the Supreme Court's mandate to allow same-sex marriage makes it clear why few LGBT people want to live there.
Other metro areas at the bottom of the list includes Pittsburgh (3.0 percent), Memphis (3.1 percent), and, surprisingly, San Jose (3.2 percent).  Many people think all cities in California are home to many LGBT people.  While San Jose is home to many technology companies that have vocally supported LGBT rights, it's also a commuter city—many LGBT people live outside of the San Jose-Sunnyvale-Santa Clara metro and commute to work every day.