Michigan has been in the news recently due to the Michigan House of Representatives passing a bill that would allow health care workers and others to refuse to provide services to LGBT people and others based on their personal religious beliefs.  While as of December 11, 2014, that bill has not yet passed the Senate or become law, it's still an alarming look at how the state views its LGBT residents.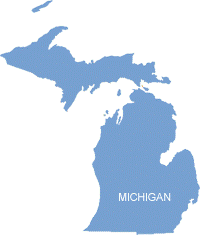 In fact, Michigan is the site of the first major loss to LGBT rights—on November 6, 2014, the ban on same-sex marriage, which had been struck down by a district judge, was upheld by the Sixth Circuit Court of Appeals.  With all of this in mind, many people may ask why anyone would want to move to Detroit.
There are actually a good number of LGBT people living in the state.  Four cities in the state are on the list of the top 25 cities in the U.S. with the highest same-sex population.  Lansing and Ann Arbor were on the list of mid-sized cities, while Ferndale and Pleasant Ridge were on the list of small cities.  According to the studies done to determine this list, Lansing has 12.34 same-sex couples for every 1,000 households.  That may not seem like a lot, but it's more than many people in Michigan would want to think about.
There are, of course, LGBT people in other areas of Michigan, too.  Grand Rapids, Michigan, is home to The Network, a group focused on bringing inclusion and acceptance to the West Michigan area.  They focus on providing resources, education, and support to everyone in the area so that the people of West Michigan can find common ground and join together in a community.
If you ask a LGBT realtor where to live in Michigan, Lansing will be at the top of that list.  The capitol city of the state holds a pride parade every year in June.  Even though it's where many of these discriminatory laws are beginning written and passed, Lansing is surprisingly LGBT-friendly.  The city even cut ties with its sister city of Saint Petersburg, Russia, in 2013 because of the stance Russia took against LGBT rights.
As you'd expect, Ann Arbor and Ferndale are also often recommended for LGBT people who are considering a move to Michigan.  Plymouth is another option.  The city has a very open business community, and many gay business owners move to Plymouth to set up shop.  Traverse City, which is often found on "Most Livable" lists, is another diverse place.  The city is beautiful, and there are many activities held by local gay groups.
So Michigan may currently look like it's LGBT-friendly, and it's certainly a challenge living there due to the current laws, but there are welcoming areas of the state.