Are you thinking about moving to San Diego, California?  The city isn't as crazy as Los Angeles—you won't find eight-lane highways full of cars or spot any famous celebrities at the grocery store (unless it's the week of the San Diego Comic Con).  The city is also not quite as high-profile as San Francisco, the gay mecca of California.  But despite this, the city is still very LGBT friendly.  There are a number of different gay neighborhoods, plus many gays and lesbians live throughout San Diego.  A number of gay and lesbian realtors also work in the area and can help newcomers find the perfect home.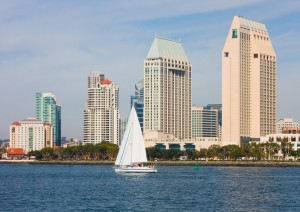 The most famous gay area in the city is Hillcrest.  It's a very diverse area home to many specialty stores, restaurants, and other gay-owned businesses.  Hillcrest is an older, gentrified neighborhood, though, which means that home prices have increased significantly over the years.  The LGBT community first moved into Hillcrest during the 1970s.  The first pride parade was held there in 1975 following a protest from the year before when the city refused to grant the permit for the parade.  In 1980, San Diego's first LGBT community center moved into Hillcrest and has been there ever since.
Mission Hills is located near Hillcrest.  It's even more affluent, and those who move into this area can expect to pay a good amount for their homes.  However, it's also a fairly quiet area.  There are two recreational parks in Mission Hills, plus many of the homes have a gorgeous view of the ocean!
While these two neighborhoods are great, and Hillcrest has a lot of history in the area, they're not exactly affordable for young families, students, or those who are moving to San Diego to begin their careers.  Even the smaller apartments and homes in these two neighborhoods can be a bit out of reach.
Fortunately, there are some gay-friendly neighborhoods that are very nice yet affordable.  North Park is probably the most famous of these areas.  It's centered around 30th and University Avenue, and there are many great stores along that area.  Unfortunately, it's also gentrifying, and prices may soon be just as high as those in Hillcrest.
Grant Hill is a little more affordable.  This historic district has some great Victorian style homes and a view of the Coronado Bridge.  However, the best bet for LGBT people moving to San Diego is to talk to a realtor about what kind of home you want.  Don't focus too much on living in a gay neighborhood unless that's what you really desire.  San Diego is very diverse and friendly, so LGBT people will find themselves comfortable and accepted anywhere in the city.