First time homebuyers are often distracted by things like ugly wallpaper, dark lighting, and a backyard that's more dirt than grass.  Often, these things make people walk away from a house that may otherwise be absolutely perfect.  That's why many realtors stress that it's important to see beyond the décor and look at the structure itself.  A good house may be hidden behind some ugly colors, but it's still a good house.  You can always repair and change things that you dislike.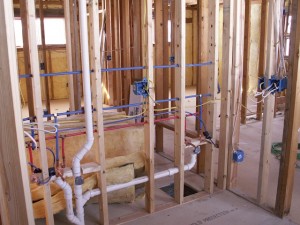 This is especially true in the middle of a seller's market.  This is when there are more buyers around than sellers and homes aren't even on the market a month before someone has made an offer.  Buyers can't afford to get caught up in surface details; otherwise, they may lose their dream home to someone else.
So what kinds of things can you overlook and what can't you?  Many of the surface features that might immediately turn you off can be changed.  Ugly wallpaper can be torn off, walls can be repainted, and light fixtures can be swapped out.  But things like the size of the house and the floor plan can't as easily be changed.
Remember the opposite can also be true: you may find a house that's absolutely gorgeous.  Everything's decorated like you'd want it to be, and you love every single one of the surface features.  But maybe the house is too small or it's in the wrong neighborhood.  These aren't things that can be fixed.  You can't let yourself be too dazzled by the surface, either.
Here are some of these surface items that can easily be changed about a house:
The colors
The flooring
The landscaping
The windows and doors
Converted garages—if a garage has been changed into a room, you can always change it back, and it's not as expensive as you may think.
Old appliances
Countertops
Cabinets
Exterior colors
If you happen to be looking for a house in a buyer's market (when there are more sellers than buyers and homes can sit on the market for months), you may even be able to talk the seller into redoing some parts of the house or including a small redecorating allowance in your bid.  Remember, though, that your budget may not let you change everything at once.  You may need to tackle these improvements one at a time, so make sure you can live with that horrible carpet while you're updating your kitchen or vice versa.