Utah is known for being the home of the Church of Jesus Christ of Latter Day Saints, usually referred to as the Mormon Church. This is one church that isn't always the most welcoming or accepting of LGBT individuals, so many members of the community see Utah as a place where they wouldn't necessarily feel comfortable. However, while it's true that some parts of the state are very conservative, Utah, just like every other state, is full of diverse people. There are some cities where you'd be very welcomed. Here are a few of the places you might want your gay or lesbian real estate agent to start your house hunt.
Logan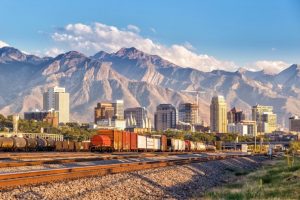 Utah State University is located in Logan, making it something of a college town. As with most towns with a large student population, Logan is very open and welcoming. It has that nice small-town feel that many people love, but it's less than two hours from Salt Lake City. That means it's close enough to attend events or go shopping there. Housing costs are generally under $250,000 here. That's quite reasonable for this part of Utah.
Park City
Park City isn't far from Salt Lake City – you can get to the downtown area of the large metro in about 40 minutes. But Park City is its own separate space. It started out as a mining town, but today, it's a bohemian city with the largest ski resort in the country. You'll find many different houses here, and unfortunately, they're all pretty expensive. Park City is flooded with celebrities and filmmakers every year during the Sundance Film Festival. It may not be for everyone, but due to the eclectic nature of Park City, everyone is welcome.
Daybreak
Daybreak sits on the southwestern part of Salt Lake Valley. It's a planned community, which is different from most towns and cities in Utah. This community provides a lot of space for those who aren't fans of the big city. But you're not totally cut off from everything Salt Lake City offers – the light rail can have you downtown within an hour. This community is also being planned with as much care for the environment as possible. The houses are constructed to use as little energy as possible, which much of the waste created by construction is recycled. Thousands of trees have been planted in Daybreak, plus everything is laid out so that you can walk almost everywhere.
These are just three of the great places in Utah that are welcoming to LGBT people. Where will you move?