Moving to Washington state may seem like a great idea for anyone in the LGBT community. It was one of the earliest states to legalize same-sex marriage, after all, and it has always been one of the most fair and equal states. With huge pride celebrations, great places to work, and a welcoming population, what's not to love? But Washington is a good-sized state, and even though you'll find affordable housing just about everywhere, are there any specific areas that members of the LGBT community should look for? Here are some of the gayest cities in Washington that you might consider for your new home.
Vancouver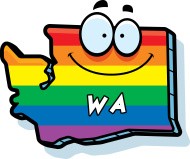 No, you don't need to move to Canada to live in Vancouver. While the more well-known Canadian city is located not too far north of Washington, there's another Vancouver in the state. It's located on the southern site of Washington, and it's considered a suburb of Portland, Oregon. This means you get everything Washington has to offer plus can quickly hop across the state line to enjoy all that Portland has to offer. Vancouver, WA, has been named one of the top 100 places to live in the U.S. by Money and as one of the top 40 places to raise a family by WalletHub.
It also has a thriving LGBT community, a great pride celebration, and is ranked #4 in Washington for cities with large LGBT populations.
Spokane
Spokane also offers a lot to those in the LGBT community. Queer Sounds, a local radio show, promotes gay and lesbian artists and helps raise awareness of the community in the city and beyond. Eastern Washington University offers LGBT students a safe environment to continue their education. For those who want to get involved, Spokane has a number of organizations such as the Inland Northwest LGBT Center and OutSpokane.
Olympia
The capital city of Washington is incredibly diverse. For those who like smaller cities, Olympia might be perfect. The city is home to just under 50,000 residents, so it's small enough not to feel overcrowded, but large enough to have everything you need. Olympia has a number of well-known gay bars, some great LGBT-owned businesses, and much more. For those who are looking for a home away from home for college, Olympia has been ranked as one of the most academic cities in the state.
These three cities are just a few of the incredibly welcoming locations in Washington. Which one will be your new home?