There are a number of islands located off the coast of New York that serve as home to New York City and its famous communities. While the city sits on Long Island, the largest island, there are a few others that also have thriving communities. One such island is Fire Island, home to many LGBTQ residents. Fire Island only has around 300 permanent residents, but during the summer, thousands of gay and lesbian tourists flock to the location.
Towns on Fire Island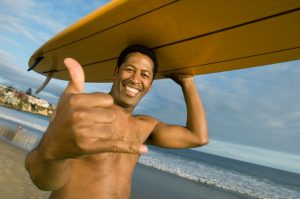 Fire Island is almost 31 miles long, which means it's big enough to be home to a number of communities. The island features three main towns: Babylon, Brookhaven, and Islip. It also has several smaller villages and hamlets. Because it's a tourist destination, you'll find a number of rental properties, hotels, and bed and breakfasts on Fire Island.
The LGBTQ Community on Fire Island
Fire Island has been inhabited since 1795, but the LGBTQ community didn't move into the area until the 1930s. In 1938, a hurricane hit the island, destroying much of what was built. Many people decided to move inland and sold their property, but the area of Duffy's Hotel was still mostly intact. This small village became the center of the LGBTQ community, which began to grow and thrive on Fire Island. It wasn't long after this that many LGBTQ people, especially gay men, started visiting Fire Island in the summer.
The biggest event on Fire Island is the large Fourth of July celebration. It has become tradition for drag queens to take the ferry to The Pines from Cherry Grove. This event is a recreation of the trip Terry Warren, a drag queen, took in 1976. A restaurant in The Pines refused him entry. When he told the story to friends he knew in Cherry Grove, they all decided to dress in drag and take the ferry to "invade" The Pines on July 4. Today, the parade from the ferry ends at the Cherry Grove Hotel and is attended by thousands of people.
Living on Fire Island
If you're thinking about asking a gay or lesbian real estate agent to find you a home on Fire Island, there are a few things to consider. First, do you want to live in a small, quiet area, or do you want access to larger restaurants and shops? The small villages are very quiet, and tourists normally don't spend a lot of time there. Cherry Grove, Ocean Beach, and the other larger towns do offer more amenities, but they're also often crowded in the warmer months. It all depends on what you're looking for.