Alaska is probably one of the states people rarely think about moving to. It's known for being incredibly cold year round, plus there are some locations that are so isolated you may go days or even weeks without seeing anyone else. While some LGBT individuals may feel that would be preferable to seeing intolerant people on a regular basis, living in those areas isn't for everyone. Fortunately, there are some good-sized cities in Alaska, and many of them are very welcoming to LGBT individuals, couples, and families.
Anchorage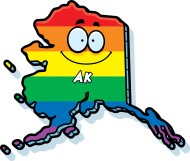 Anchorage is one of the most progressive cities in Alaska. It was one of the first to pass LGBT-friendly ordinances. The northern part of downtown Anchorage has become something of a gay neighborhood and now includes a number of LGBT-owned businesses, restaurants, and boutiques. The city also hosts Alaska's official pride parade. Gay and lesbian real estate agents can help you find some amazing homes here.
Juneau
The capital city of Alaska, Juneau hosts many different LGBT events. Most of these are put on by the Southeast Alaska LGBTQ+ Alliance, or SEAGLA. This group puts on events such as karaoke, film festivals, picnics, and kickball tournaments. While they have mostly focused on Juneau in the past, the group has recently begun hosting events in other areas, too. As the capital, Juneau is also home to many different businesses, government offices, and other major employers.
Fairbanks
Fairbanks is a unique combination of traditional religious views and welcoming attitudes. If you're part of the LGBT community, but also religious, you may find this combination perfect for you. The churches here are almost all very open-minded and welcoming, and the city's Fairbanks Pride group brings together many different denominations to work towards a common goal. The Fairbanks Diversity Council, a city-organized group, also works to make certain Fairbanks is welcoming and fair to all of its citizens.
Barrow
If you work in the oil industry, you may find yourself moving to Barrow, Alaska. This town is a huge oil town with a median income of nearly $70,000. But the oil industry isn't all Barrow has going for it. The city is known for its arts scene, tourist industry, and culture. The Eskimo LGBT community is especially large in Barrow.
These are just a few of the great places in Alaska that are exceptionally welcoming to members of the LGBT community. Cold Bay, Talkeetna, and Dutch Harbor are also great places to consider if you're planning a move to Alaska.