New Hampshire is a great state for anyone who loves the outdoors. The gorgeous landscape stretches across the horizon, highlighting the lakes, beaches, state parks, and other amazing locations you'll find here. Moving to New Hampshire can be a nice change for those who have grown up in large cities, plus it's popular with people who are retiring and want to get away from it all. But if you're LGBT, you may want to find others in the community to live near. If that's the case, talk to your gay or lesbian real estate agent about homes in these cities.
Keene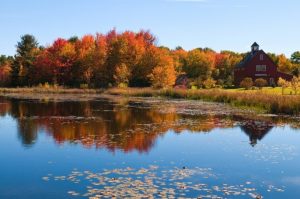 Keene is a college town. Keene State College makes the city very welcoming by bringing in a large, diverse population. Keene has grown nicely over the last ten years or so, expanding from a small town to a nice suburban area. Many residents love going skiing or snowboarding in the nearby mountains during the winter and camping or fishing during the summer.
Durham
Another college town, Durham is also fairly diverse thanks to the University of New Hampshire. In fact, many of the most welcoming cities in New Hampshire are college towns, showing that the younger generation is definitely not afraid of diversity. During the school year, Durham's population almost doubles. That means residents can enjoy very quiet summers, something many look forward to. On the other hand, the university offers some fun cultural activities, sports, and theatre performances.
Portsmouth
Portsmouth is one of the new cities in New Hampshire that has a true Gayborhood. This area features a number of LGBT-owned restaurants, boutiques, and other businesses. It's also a very safe city, and you'll find a lot to do here. In the winter, there's ice skating at the park, while summer means a trip to the water park. Even better, Portsmouth is easily within commuting distance to both Boston and the cities in southern Maine.
Manchester
Looking for city living? Then you want to check out Manchester, the largest city in the state with more than 110,000 people. It's nowhere near as large as Boston or New York City, though, so it's not overwhelmingly large. You'll find a number of LGBT clubs, shops, and restaurants near Elm Street. There are several great parks and other places for family fun, too.
In addition to these cities, you may also want to think about living in Hanover, Concord, or Plymouth.