Every year, the Advocate compiles a list of what they call "America's Queerest Cities." They consider cities that have more than 250,000 residents and rank them according to a number of different criteria. What makes this list so unique is that, unlike scores given out by groups like the HRC, the Advocate uses a list of criteria that's both serious and fun. For example, a city can gain points by having lesbian bars, trans pride events, and LGBT centers, but they can also improve their rankings by having a gay rugby team, having a theater that showed the movie Moonlight, or being a stop on the Pwr Bttm tour. After adding up the points, there are the cities Advocate has found rank at the top.
Jersey City, New Jersey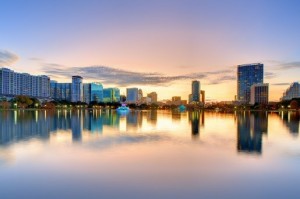 It might come as a shock that Jersey City stole the number one spot on the list from cities such as San Francisco and New York, but it did. The second-largest city in New Jersey is located across the Hudson River from NYC, but it's much more affordable. The HRC gave Jersey City a perfect 100 on its municipal equality index this year, plus there are many gay events, businesses, and activities in the city. It even hosts its own pride parade instead of piggybacking off of the New York City one.
Orlando, Florida
Securing second place on the list is Orlando. The city has been in the LGBT news a lot in the past year following the tragic shooting at the Pulse nightclub. The shooting has shown that Orlando's LGBT community is incredibly strong and came together for support following the event. Many performers live in Orlando and work at Disney and Universal.
St. Petersburg, Florida
Is Orlando too big for you? St. Petersburg may be more your speed, then. It sits on the west coast of Florida and is one of the highest rated LGBT cities in the state. You'll find many different restaurants, clubs, and other businesses owned by LGBT people here, plus a great number of events and activities. St. Petersburg was also ranked very high on the HRC's index, especially in the area of municipal protections for its LGBT citizens.
Buffalo, New York
Buffalo rounds out the top four. While it may be the complete opposite of Orlando and St. Petersburg when it comes to the weather, this colder city scored a 95 on the HRC index. You'll find a lot of LGBT activities here, including literary events, community activities, and more.