The Southeastern U.S. is commonly referred to as the Bible Belt. This is because of its high Christian-Protestant population. Because of this, the states in the area are quite behind when it comes to progressive LGBT legislation.
In spite of this, there are actually quite a few reasons to live in these cities if you're LGBT.
The Cost Of Living Is Lower Than the North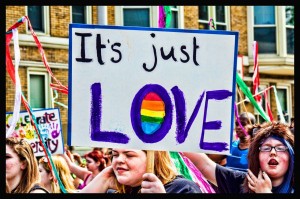 Living costs decrease drastically the closer you get to the southern border. In fact, Oklahoma City has a thrifty $98 per square foot property value. The entire state of South Carolina has a price per square foot value of $102.
Keep in mind that earnings in the southern United States are in line with the cost of living, so you'll earn less money when you move there. However, if you're moving to a southern city from up north, your money will go much further.
If you're moving from up north, it's best to save money first, and then move south after you have a good amount of savings stored away.
The LGBT Community is more Clustered and Tightly Knit
It comes as no surprise that the Bible Belt isn't exactly the most tolerant of members of the LGBT community. However, there is one advantage to this. Members of the LGBT community tend to cluster together in the more accepting and metropolitan areas of these cities. Texas is especially noteworthy due to the gay friendly atmosphere in San Antonio, Dallas, Houston, and Austin.
You'll Be on the Forefront of American LGBT Politics
The Bible Belt is the last bastion of homophobia fueled intolerance in North America. If you're interested in making a real-lasting change in North American LGBT politics, then the south is where you need to be. It's much more difficult to make a difference in southern politics when you're located somewhere like San Francisco where the gay community is accepted wholeheartedly.
The LGBT community needs an increased presence in the south, and you can help make that happen.
The Situation is Changing
In January of 2015, the hard work of members of the LGBT community and their allies caused Florida to legalize gay marriage. Several opinion polls on gay marriage taken in Florida indicate that public opinion on gay marriage ranges from 47-52% against.
While gay marriage is illegal in the Bible Belt, remember gay marriage was completely illegal everywhere a few short years ago. Trends dictate that gay marriage could be legal in every state as early as 2016. The situation is changing for the better, but we'll only reach full acceptance if we make our voices heard.